Cobra Staff member and Golf Entertainer/World Long Drive Champion, Dan Boever, is visiting Iraq on a goodwill tour to meet with the troops. This is the eleventh in a series of updates from his travels.
December 2, 2009 Today is Thanksgiving. It is a day with a long-standing tradition of eating piles of turkey and watching football. We did that before the day was over, but in ways that were not the norm.
It was checkout time at the JVB (Joint Visitors Bureau) because we would be catching a C-130 and traveling west to Al Asad Airbase. As was the case for most of the trip we had to maintain a certain degree of flexibility with our departure times. We had originally been scheduled to leave early and get to Al Asad and have Thanksgiving lunch with the troops. Those plans changed and we headed to Camp Victory for our meal.
On the drive over we spotted a large group of soldiers playing flag football. Because we had plenty of time before lunch we decided to stop and watch. There were multiple teams and when we got there they were playing the championship game.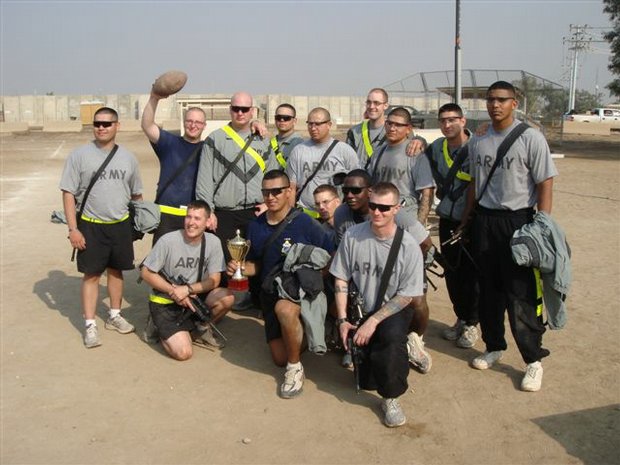 It may have just been flag football, but you would not have wanted to be on that field unless you had on some padding. The weather was a picture perfect and these guys were jumping and screaming and having a great time. I snapped some pictures and shot video of a few plays.
Of course, there were players there who recognized Watson, Pavin and Simpson, and once the game was over they stopped by to meet them. As usual, our guys went out of their way to be accommodating.
At lunch we ran into Commanding General Raymond Odierno. He was out seeing the troops. I can